Introducing Organic Lemon & Sandalwood Cleanser!
Our luxurious EverEscents Cleanser gently cleanses and balances the scalp with virtually no lather. It contains 87% Certified Organic and 99% naturally derived ingredients and features the rich and refreshing Lemon-Scented Teatree and Sandalwood Essential Oils. This Cleanser perfectly complements any conditioner or treatment in the EverEscents range.
EverEscents Organic Cleanser is of course Australian Made and Owned, Vegan Friendly, Cruelty Free and Curly Girl Approved.
So, what is a Cleanser for the hair?
A cleanser is a no-poo, no-lather product designed to be used in replacement of a shampoo. A cleanser will gently open the hair cuticle and allow for oils, dirt and build-up to be washed away with virtually no lather. It gets better… at a lower Ph level than traditional shampoos, a cleanser will ALSO deliver hydration to the hair shaft, helping to close the hair cuticle in a similar way conditioner does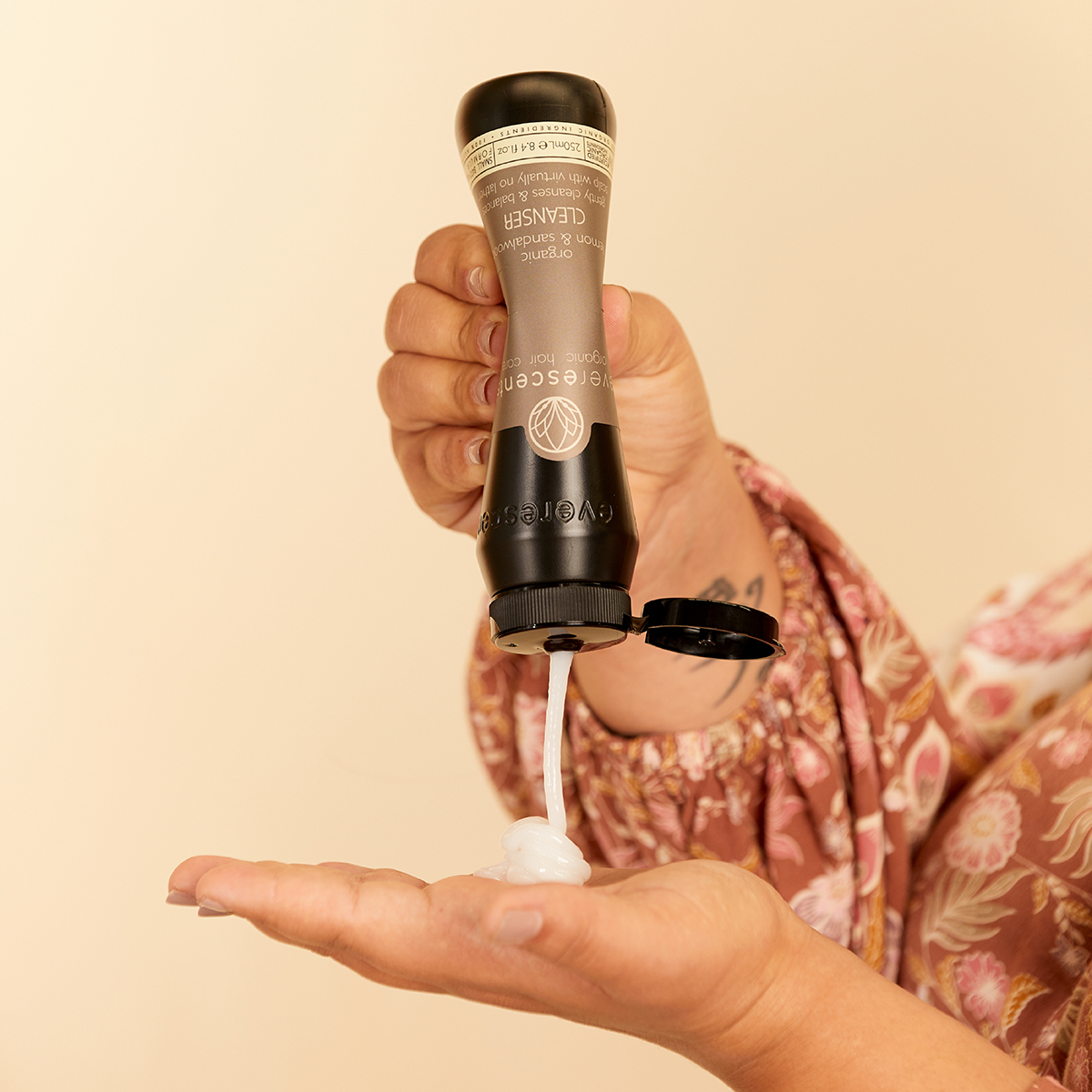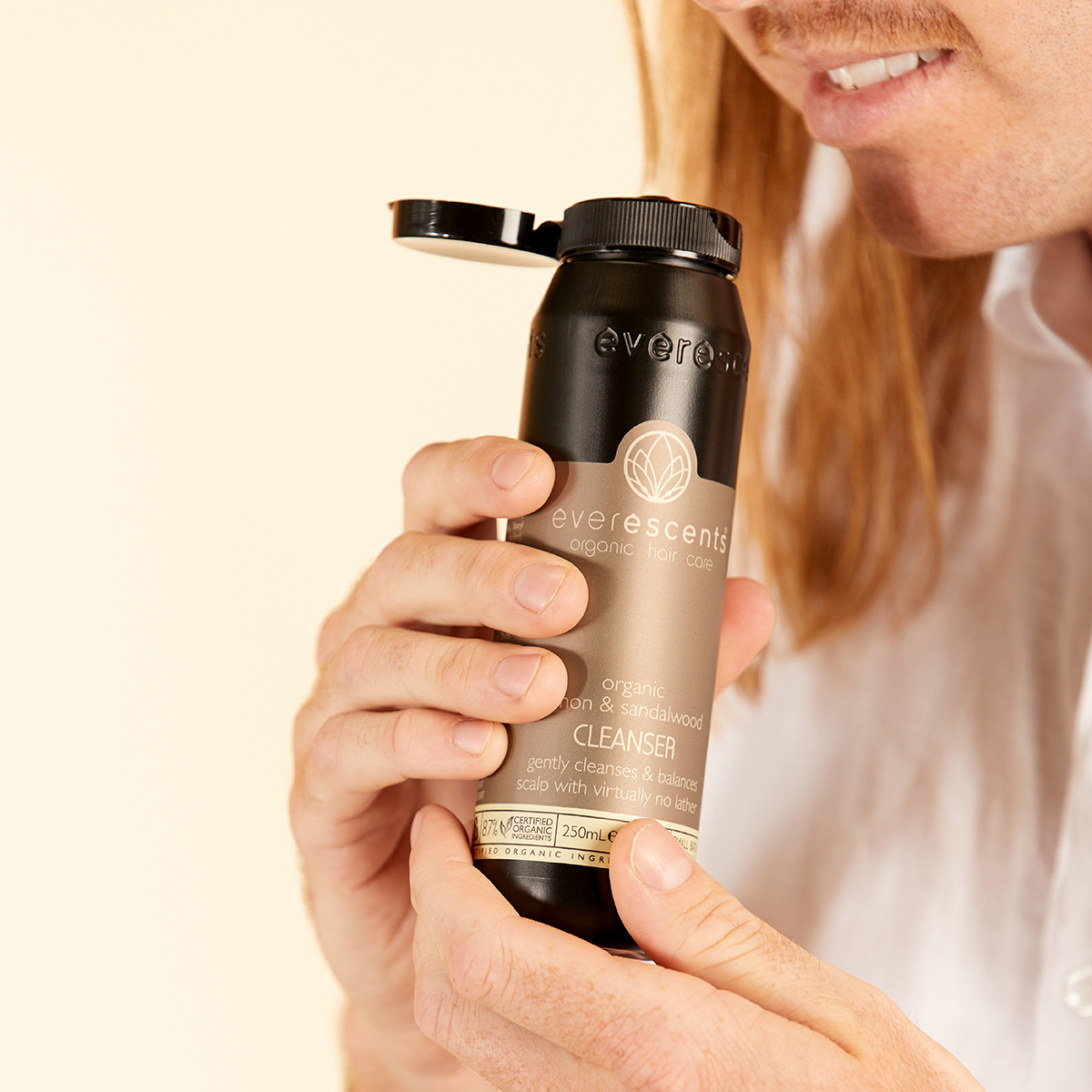 Why use a Cleanser instead of a Shampoo?
Every individual has different product preferences influenced by factors such as hair type, hair condition and lifestyle. Some prefer shampoos, some prefer cleansers, and some use both!
Many mainstream shampoos on the market contain harsh cleansing agents such as sulfates. Sulfates are surfactants, detergents and emulsifiers that provide a deep cleanse but can also dry out the hair, strip colour and cause irritation to the scalp, skin and eyes.
Cleansers were first used by curly girls before low lather, organic shampoos (like our current EverEscents shampoos) were available in the haircare industry. Before Cleansers, many curly girls refused to use high lather, stripping shampoos so therefore used conditioner to cleanse their hair (called co-washing) which can also lead to negative effects on scalp and hair health over time.
So, as you can see now, no-lather cleansers have been the best invention for curlies all around the world! However, it isn't just the curlies that love and benefit from cleansers.
Who can use EverEscents Cleanser?
Absolutely anyone can use our beautiful Lemon & Sandalwood Cleanser. To simplify it a little more, we can look at it from three angles:
Curly, coily, wavy and textured hair is naturally on the dryer side and must be cleansed very gently in order to preserve hydration and the curl's natural formation whilst reducing frizz, so some curlies prefer to use a no-lather cleanser to ensure the hair is cleansed and hydrated and that nothing else (such as lathering ingredients) gets in the way of their natural curls.
Our Organic Lemon & Sandalwood Cleanser is 100% Curly Girl Approved.
EverEscents Organic Lemon & Sandalwood Cleanser is highly nourishing and has a lower Ph level than traditional shampoo, and can therefore be used as a 'one and done' for particular hair types.
Children's hair, short hair, and really fine hair types often don't require shampoo AND conditioner due to the length and texture. Our EverEscents Cleanser opens the hair cuticle less than a traditional shampoo does, cleansing the hair properly whilst retaining hydration and nourishment. One and done, simple!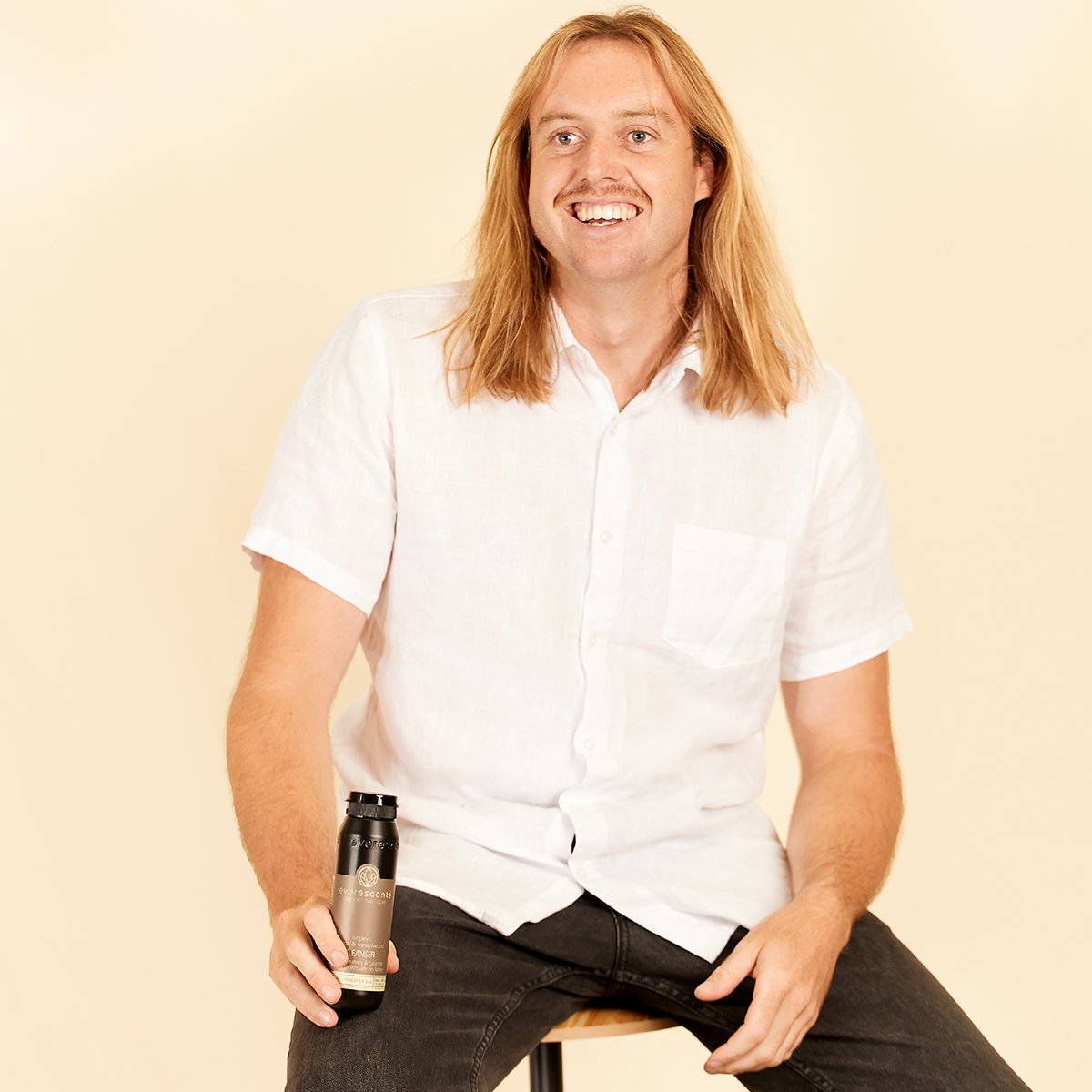 Skin is the largest organ of the human body, and we love to treat our skin with utmost care and attention. We often forget however that the skin on our scalp behaves and reacts the same way as the skin on our faces and bodies.
The EverEscents Cleanser cleans, balances and hydrates the scalp using the highest quality natural and organic ingredients and a scientifically advanced formulation. It has a lower pH than lathering shampoos, it is gentle on the skin's barrier, protecting and nurturing the scalp's natural microbiome.
EverEscents Cleanser truly is skincare for the scalp.
HOT TIP!
Another extraordinary benefit of EverEscents Organic Cleanser – it's perfect for preserving your colour! Due to its lowered pH, our Cleanser acts to lock colour into the hair cuticle, allowing colour to last longer between salon visits.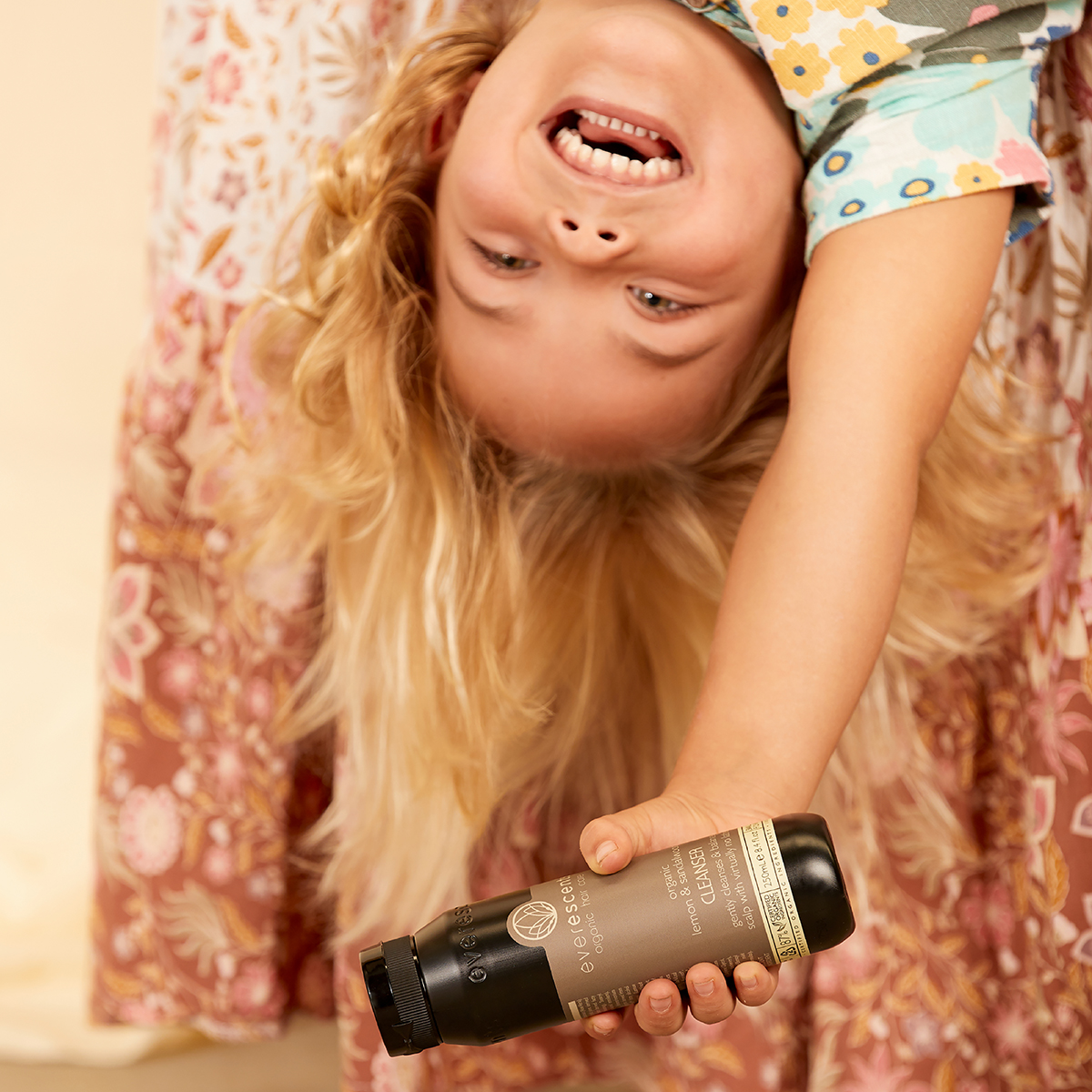 How is this cleanser correctly used?
We can often get away with lazy cleansing when using lathering shampoos, as the lathering agents assist with removal of dirt, oil and build up. Due to the absence of lather in our Organic Lemon & Sandalwood Cleanser, technique plays a HUGE part in removing most of the dirt, oil and build up and ensuring the scalp is thoroughly cleansed.
It is important to cleanse twice on ALL wash days. And by all, we mean ALL. The first cleanse will remove dirt, oil and build up, and the second cleanse will ensure the scalp is thoroughly cleaned without any build up being in the way.
Simple instructions to use our Cleanser:
Completely saturate the hair with warm water to open the hair cuticle
Apply a small amount of Cleanser to saturated hands and distribute evenly in palms
Massage the Cleanser into the scalp ensuring there is very strong tension in the fingertips
Cleanse for up to a minute covering all areas of the scalp including hairline, nape of neck and crown (these areas often get missed)
Repeat the process one more time
Follow with chosen EverEscents conditioner or treatment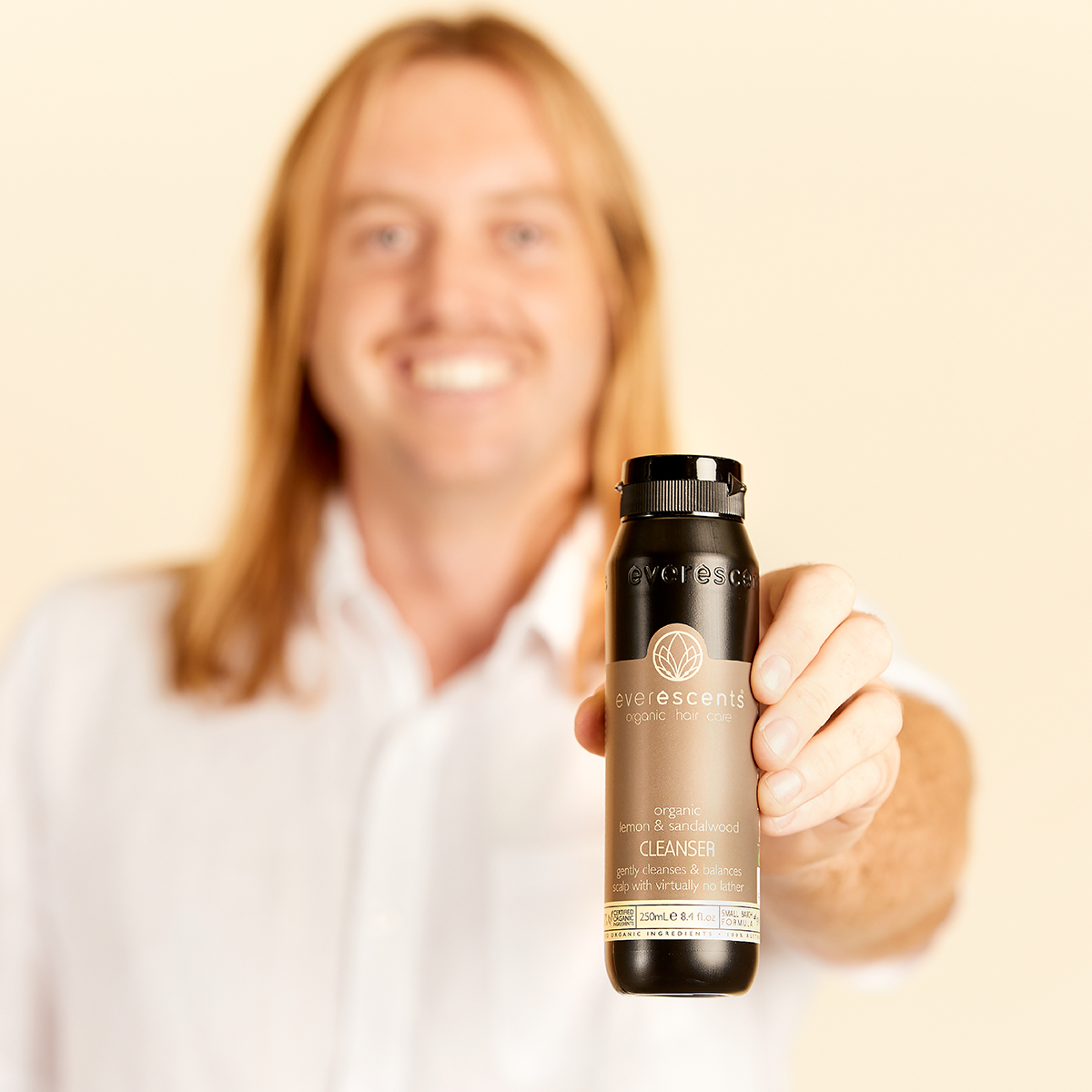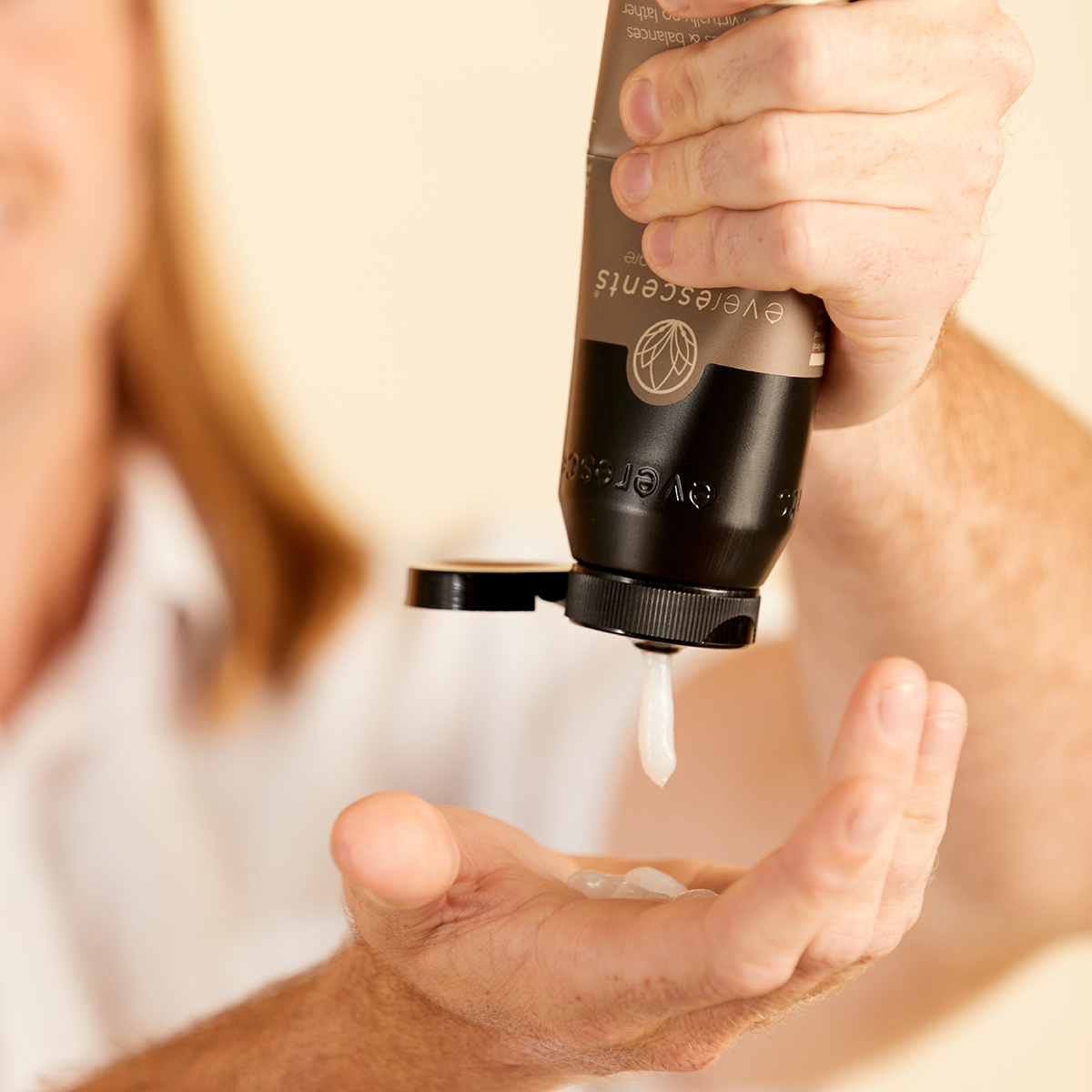 Ingredients, ingredients, ingredients
Now it's time for the nitty gritty…
As you may already know, here at EverEscents we are VERY passionate about the ingredients in our product formulas – where they come from, how they are sourced and how they benefit our hair, scalp, skin and body.
The EverEscents Cleanser contains 89% Certified Organic and 99% naturally derived ingredients and is of course free of sulfates, silicones, artificial colours and fragrances, parabens and drying alcohols.
This Cleanser contains an active ingredient blend of plant and herbal extracts that are found across the whole EverEscents range:
Rosemary, Sage, Linden Flower, Nettle, Birch, Horsetail and Yarrow.
Some ingredients that really stand out (and we're going into detail) are: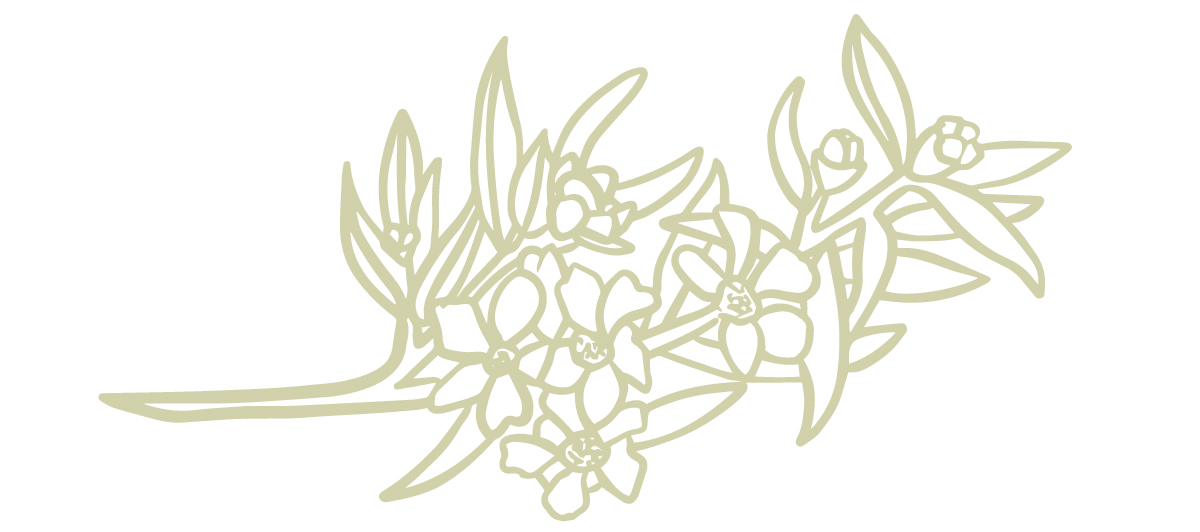 Native Australian Lemon-scented Teatree Essential Oil (Leptospermum petersonii)
This Australian native essential oil contains antibacterial, antifungal and antimicrobial properties making it effective for soothing and alleviating dryness, flakiness and itchiness on the scalp. The astringent properties in Lemon-Scented Tea Tree Oil provide a thorough cleanse of the scalp and help to balance oil / sebum production.
Sandalwood Oil
This oil strengthens hair follicles and thoroughly moisturises hair strands, supporting the hair's natural body and enhancing its shine. Sandalwood is also effective in warding off excess sebum secretion in the scalp, treating split ends, enhancing hair growth and combating free radicals.
Aloe Vera
A natural moisturiser containing active minerals to help hydrate, strengthen, promote hair growth, balance sebum production and soothe irritation. Aloe Vera leaves the hair feeling soft, manageable and shiny.
Shea Butter
Shea Butter's anti-inflammatory qualities and essential nutrients help to soothe scalps and strengthen hair follicles. Shear Butter is high in fatty acids and has strong emolliating qualities helping to lock in moisture without weighing the hair down.
Avocado Oil
A lightweight oil that provides nourishment and strength to all hair types. Avocado oil penetrates the hair shaft and seals cuticle cells, thoroughly moisturising the hair and preventing hair breakage.
Vitamin E
Vitamin E nourishes, supports a healthy scalp and assists with hair growth. Vitamin E's powerful antioxidant properties help to combat oxidative stress and free radical damage.
Vitamin B5
B5 strengthens the hair against breakage, provides nourishment and improves the hairs overall shine, softness and strength. B5 has an excellent ability to bond the hair, protecting it against artificial or environmental damage.
Cleansing, hydrating, balancing
The perfect product for anyone with curly hair, dry hair, a dehydrated scalp, or those who just want to switch up their routine and opt for the gentlest cleansing option!
Be sure to try our luxurious, organic Lemon & Sandalwood Cleanser for a healthy new, refreshing take on organic luxury hair and scalp care.