ORGANIC RED CLOVER ESSENTIAL OIL
The Benefits of Organic Red Clover Essential Oil for Hair, Skin and General Health
Native to Europe, Western Asia and North West Africa, Red clover (Trifolium pratense) is a herb belonging to the legume family.
In herbal medicine, Red Clover has typically been used to treat respiratory issues such as asthma, whooping cough, and bronchitis, skin disorders such as eczema and psoriasis, inflammatory conditions like arthritis, and Women's health concerns such as menopausal and menstrual symptoms.
Red Clover's brightly coloured flowers contain many nutrients including calcium, chromium, magnesium, niacin, phosphorus, potassium, thiamine, and vitamin C.
Red Clover is also a rich source of isoflavones; compounds that act as phytoestrogens—plant chemicals similar to the female hormone estrogen. Isoflavone extracts are often used as dietary supplements for high cholesterol and osteoporosis in addition to some menopausal symptoms.
HEALTH BENEFITS OF ORGANIC RED CLOVER ESSENTIAL OIL
Although research is ongoing, Red Clover is used in alternative medicine to help with the following conditions:
Menopausal Symptoms
A number of small studies have been done to see if red clover may help relieve the discomforts of menopause, especially hot flashes.
Bone Loss
Research has shown that isoflavones may aid in lowering the loss of bone mineral density in postmenopausal women.
Cancer
Preliminary research suggests that red clover may help reduce the risk of prostate cancer. In a 2009 study, scientists found that treatment with Red Clover led to a decrease in the prostate-specific antigen (PSA), a protein found at elevated levels in men with prostate cancer.
*If you are hoping to use Red Clover for medicinal purposes, please consult your doctor first.
ORGANIC RED CLOVER FOR THE HAIR AND SKIN
The bright purple blossoms of the Red Clover plant produce a nourishing oil that is known to possess many benefits for the skin, including the ability to increase collagen production, improve elasticity and reduce fine lines and wrinkles.
Clinical evidence has shown that the isoflavonoids present in Red Clover oil also help to slow down the visible signs of ageing on the skin. Isoflavonoids possess potent anti-inflammatory properties that act as phytoestrogens to increase collagen production and hydration in the skin, whilst also improving skin thickness, elasticity and moisture retention.
In addition, these substances have the healing ability to treat various skin irritations such as eczema and dermatitis, wounds, skin sores, burns and insect bites.
Red Clover Extract for the Hair and Scalp
Red Clover is known to help smooth, soften and add volume to the hair, but most importantly it supports the anchoring of hair fibres into the scalp, supporting the hair growth cycle by maintaining the structure of hair follicles, all of which contribute to reduced hair fall.
Red Clover essential oil is also effective in treating scalp conditions and irritation such as dandruff and psoriasis.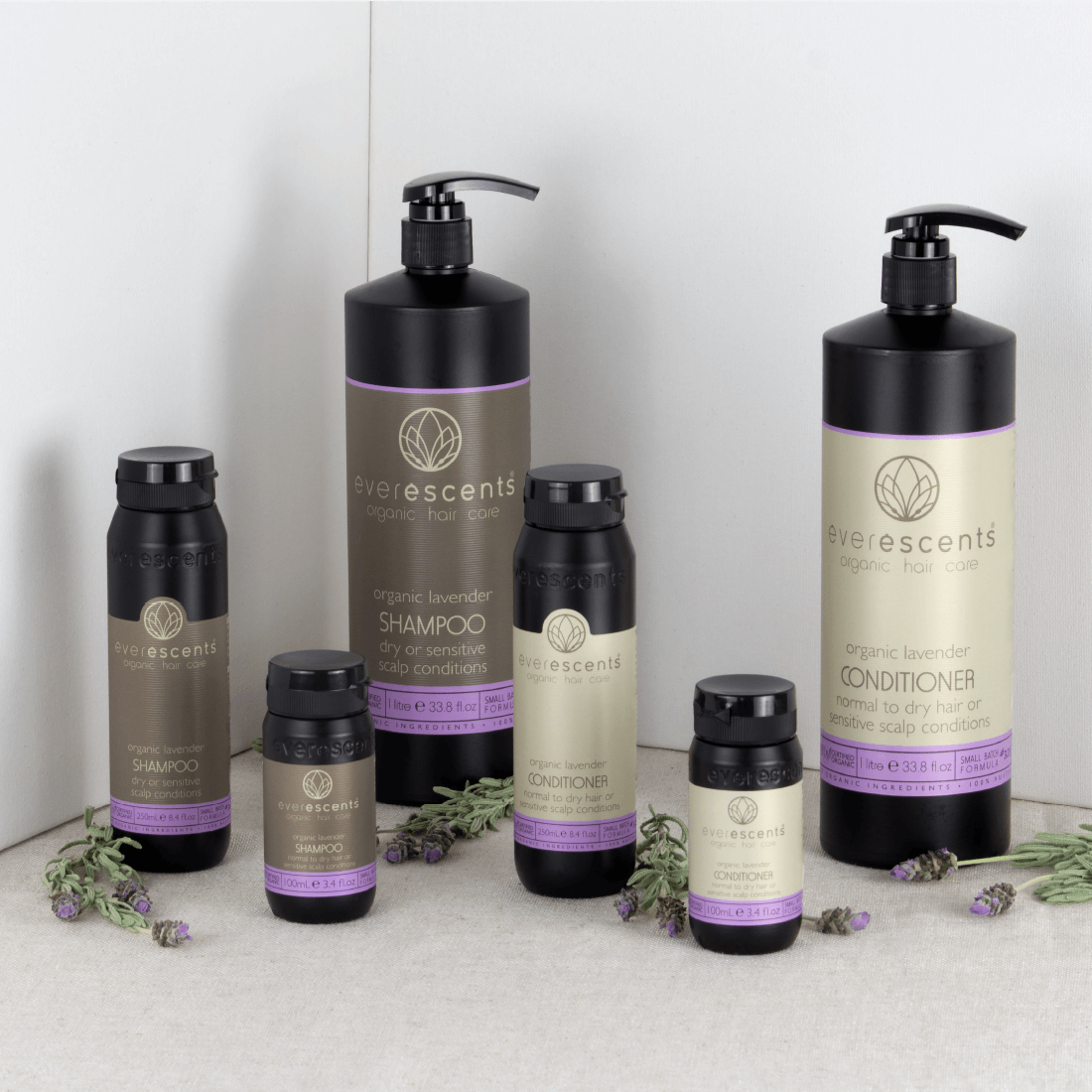 EVERESCENTS ORGANIC LAVENDER SHAMPOO AND CONDITIONER WITH RED CLOVER ESSENTIAL OIL
Red Clover extract is beneficial for all hair types and regular use of Red Clover in hair care has been shown to promote healthy hair growth, sooth inflammation and scalp conditions, and leave hair smooth and shiny.
Red Clover extract is a key ingredient in EverEscents Organic Hair Care's signature blend of Organic Essential Oils found in EverEscents Organic Lavender Shampoo and Conditioner.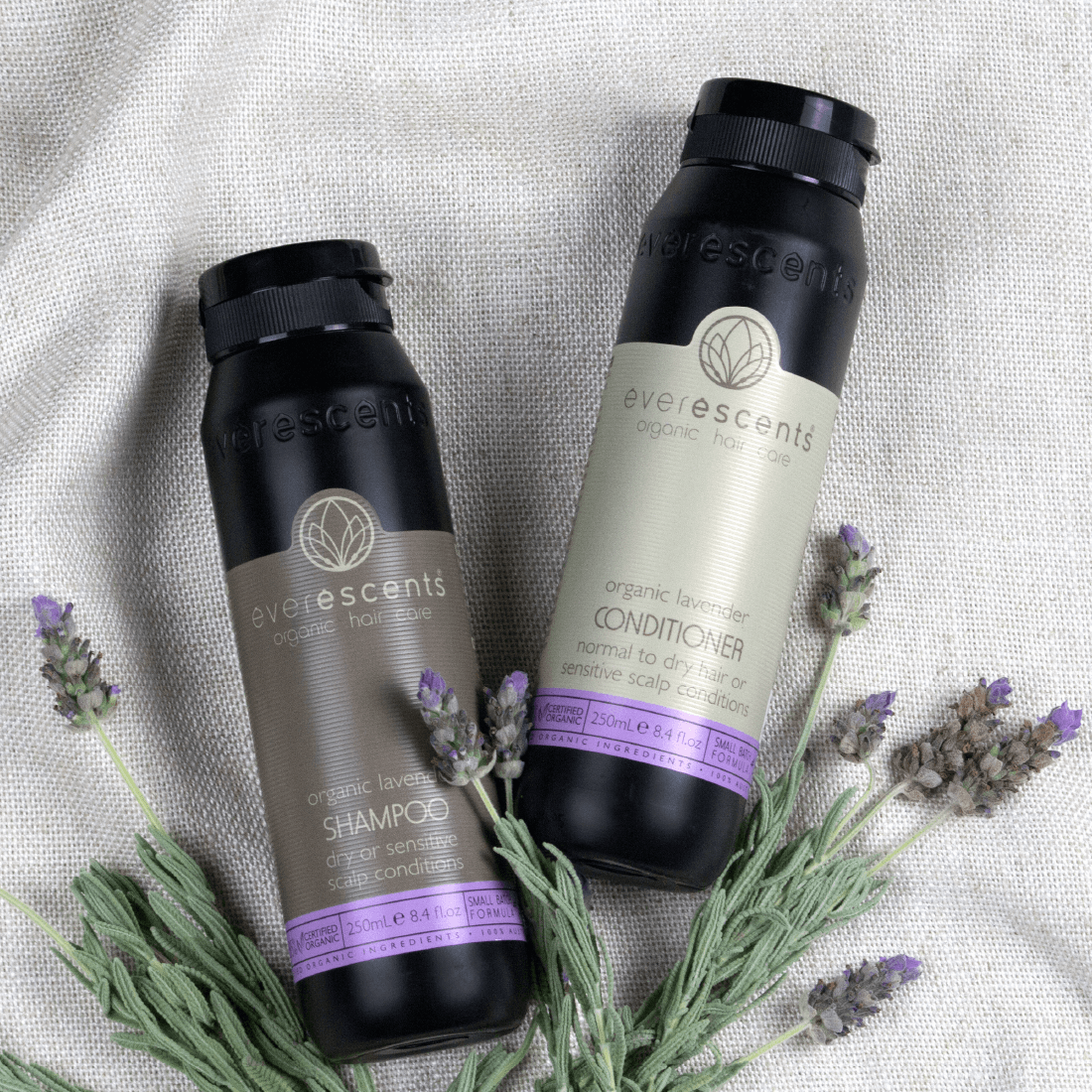 The EverEscents range of Lavender Shampoo and Conditioner contains the highest quality, pure Australian Certified Organic ingredients and does not contain any harsh chemicals.
The Lavender variety provides ultra-reconstructive care with intensive personalised nourishment for normal to dry hair.
 It is the perfect recipe for gently cleansing while nourishing even the most delicate hair from moisture loss.
Lavender is designed for dry lengths of hair with normal to dry scalp and is perfect for helping alleviate scalp conditions such as dandruff, psoriasis, itchy and flaky scalp.