ORGANIC MINISTRY – WHAT'S NOT TO WORSHIP?
Organic Ministry – What's Not to Worship?
The team at Organic Ministry in Adelaide's Northern suburb of Wynn Vale live and breathe organic. With pride, this salon offers alternatives to traditional, chemical laden products and colours. Organic Ministry Salon is more than just a place to have your hair done, it's a wellness space, which is evident as soon as you step inside. The warm, earthy tones of the décor compliment the upcycled furniture and recycled materials used for the salon fit out. The welcoming and relaxed vibe exudes luxury, peace and tranquillity.
With over 25 years' experience in the industry, salon owner Sarah Pope effortlessly fuses her knowledge of physiology, the environment and anatomy with upcoming trends to give each client a personalised service and experience. She challenges every shade on the colour wheel and creates bespoke personalised colours on a daily basis. With the skilled team at Organic Ministry, you can relax knowing you are in good hands.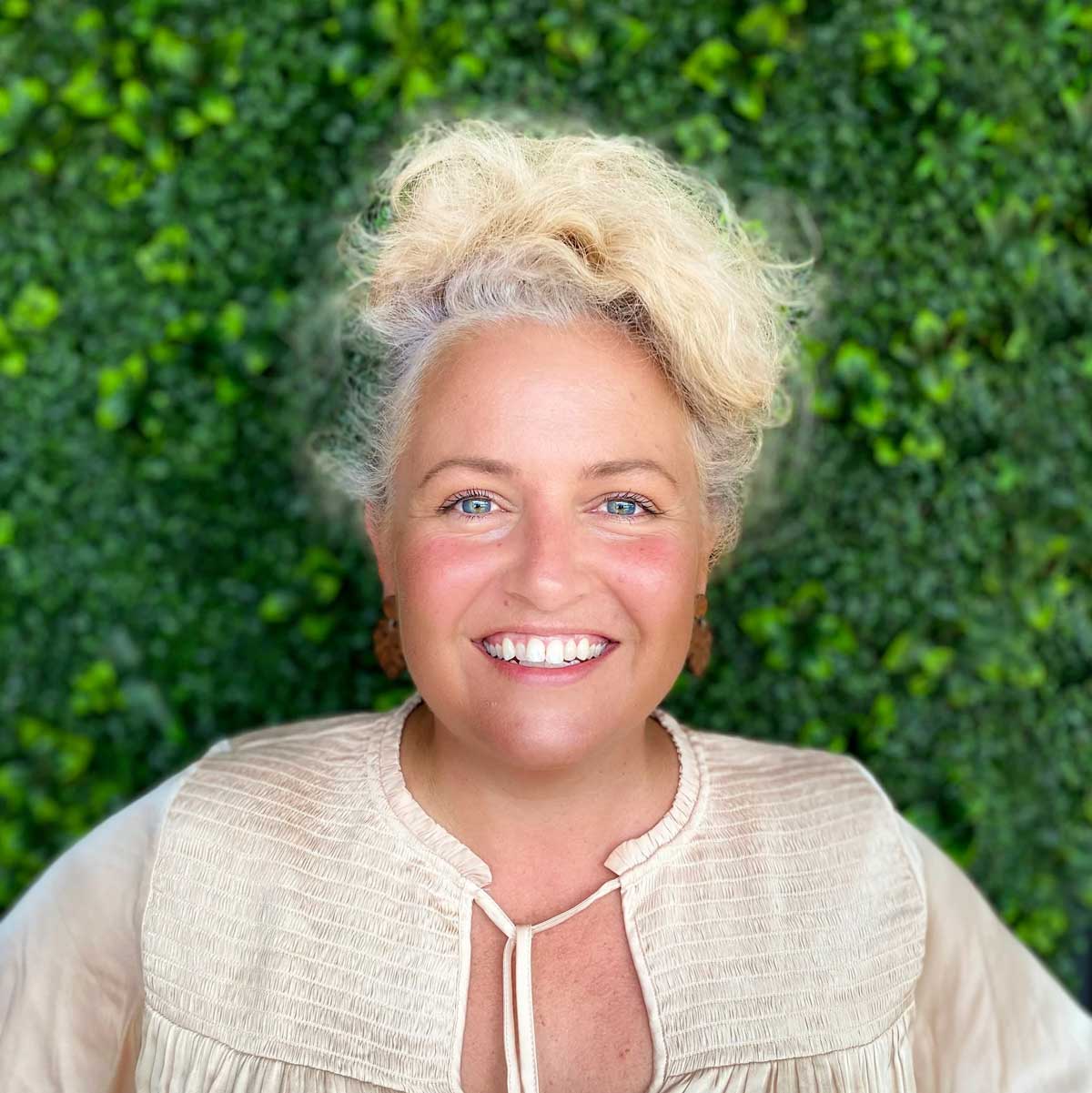 Organic Ministry have created a welcoming Curly Community within their salon and have a passion for equipping their clients to embrace their natural curls and care for them at home. This community was born of Curl Specialist Shara's own personal curly hair journey and continues to grow. Since offering Curly hair services, the Organic Ministry Curly Team is ever expanding, and Maria is another sought after Curl Specialist in the field.
The team at Organic Ministry take pride in nurturing their own health and that of their clients through natural, botanical remedies whilst reducing their carbon footprint. As humans, we're forever changing and growing like the Earth around us – always searching for safer, healthier alternatives to use on hair. This is why the Organic Ministry team have specifically sourced organic styling and after-care products such as EverEscents Organic Haircare. Sarah and her team have used EverEscents since its launch in 2006.
We sat down with Salon owner Sarah to chat about Organic Ministry's sustainable practises and ethos;
"At Organic Ministry, 95% of the resources used during your service will be diverted from landfill and sent for recycling thanks to our partnership with Sustainable Salons Australia since they started. All proceeds from recycling the salon's metals is donated to not-for-profit community-based organisations that do an amazing job helping humanity.
Organic Ministry has an ongoing commitment to reduce our ecological footprint, achieve zero waste, support charitable causes and implement environmentally sustainable practices in all that we do.
We have offered a recycling program on all our salon retail products since we opened our doors. We stock refillable bottles in our basin room, towels are air dried when possible, we offer our clients biodegradable/compostable essential oil infused refresher towelettes, a returns program for empty plastic bottles, and the coffee grinds from our café are used in our staff's home herb and vegetable gardens.  We also offer a community share table of food, plants and seedlings that promotes the philosophy of 'give what you can and take what you need'."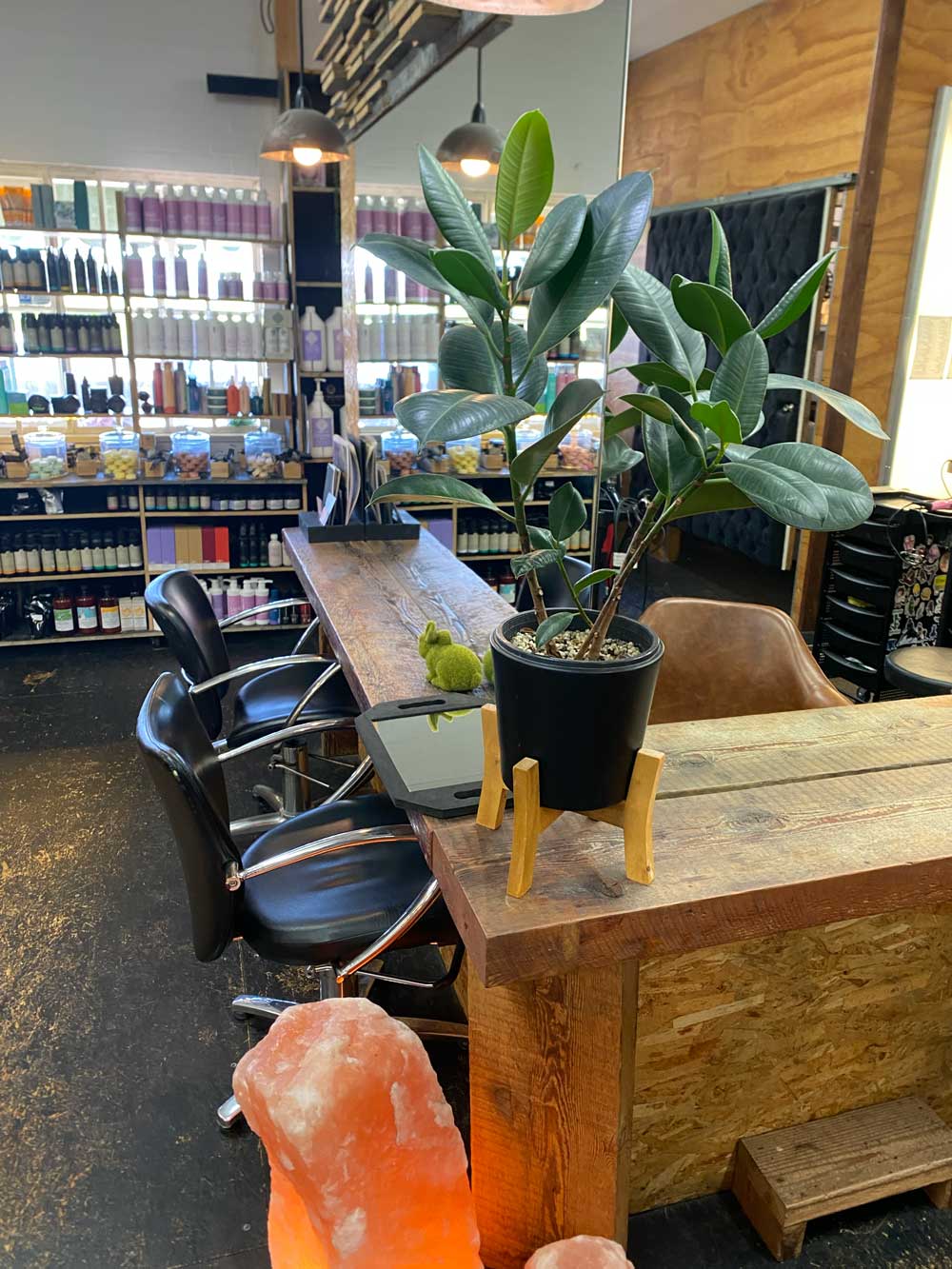 This innovative salon also offers unique services that you may not find anywhere else! We asked Sarah to share some of the beautiful services that differentiate Organic Ministry from other salons.
"We offer 1 hour Curl Class sessions to help those who are beginning their curly hair journey, wanting to revive their dry frizzy curls, wanting to find out more about the Curly Girl Method or even those who just need a pamper session for their curls.
We also offer customised clay masks for scalp health, specialised in-house oil hair and scalp treatments, flower and herb hair baths and custom in-house blended scalp detoxing and exfoliating treatments. We have a dedicated basin area that is in a separate room from the main salon offering a peaceful atmosphere with soft backlit lighting, a private space for clients to fully relax.
We cocoon our clients in heated blankets and offer the opportunity for them to carry out a DIY mini facial whilst in salon with our very own Organic Ministry Skincare range recommended specifically for their skin type. We also have our own Infrared sauna in salon which our clients can use during their service, and is routinely used by our staff to maintain health and wellbeing.
Lastly, we offer bespoke skin and body treatments (using our own Organic Ministry skincare) as well as the full list of hair, beauty and massage services you would expect from a high-end, luxury organic salon."
It's an extensive list and certainly makes us want to travel to South Australia just for a day at Organic Ministry!
Since the beginnings of EverEscents, Sarah and Organic Ministry have been big supporters. Their ethical approach to the haircare industry has never wavered. We asked Sarah why she chose to support our range of professional organic products.
"The scholarly ambition to understand the foundations of formulations was what lead us to be EverEscents advocates from the very beginning."
Salon owner Sarah has also launched her own hair, body and skincare brand and believes in honesty and transparency in the way we deliver information to our customers, avoiding "greenwashing"."
"We are therefore very conscious of other brands marketing ploys and thankful for the Ethical Brand Co approach."
Before we let her go, we of course had to ask Sarah what her all-time favourite EverEscents product is!
"My favourite EverEscents product is the Ultimate Hair Enhancer, it's so versatile!"
EverEscents Organic Geranium Ultimate Hair Enhancer is designed to improve the strength, condition and brightness of hair whilst also enhancing the hair's natural shine. The addition of essential amino acids and proteins comes from the active ingredients Arginine and Kerarice to provide ultimate protection of hair keratin. Kerarice is a blend of amino acids naturally derived from rice protein. Not only does this product help to detangle and condition is can also be used in hair prior to swimming in chlorine or salt water to protect the hair from corrosive elements. A favourite in our books too!
If you'd like to know more about Organic Ministry Salon you can head to www.organicministry.studio/ or phone (08) 8251 2245 to book an appointment.
EverEscents Organic Hair Care, organic, organic conditioner, Organic Ministry, Shampoo