What is PVP/VA Copolymer?
PVP/VA Copolymer is the ingredient found in most mainstream hair care products that provides the hold factor.  So it is very common in most Hairsprays but also found in gel's, wax's, pomades and styling creams.  It is a synthetic ingredient that is derived from petroleum.
PVP (also known as Polyvinylpyrrolidone) was the main ingredient in the first really successful hairsprays in the early 1950s. This polymer worked as a hairspray because it was soluble in water. This meant it could be rinsed out when you wash your hair. PVP tended to absorb water out of the air, giving hair that tacky look that was so common in the sixties.
This was fixed with the help of another polymer, a silicone called polydimethylsiloxane. To understand how this silicone made a better hairspray, it helps to understand how the hairspray works in the first place. When you spray it on, the polyvinylpyrrolidone forms a thin coating on the hair. This coating is stiff and keeps the hair from moving around. (See image below)

Unfortunately no one was aware of the dangers that came with this Polymer.  If particles of PVP/VA Copolymer are inhaled, it can cause damage to the lungs in sensitive individuals. It can be considered toxic, since particles may contribute to foreign bodies in the lungs of people. Up until a few years ago, this ingredient was considered safe to use however now it is definitely an ingredient that is better to avoid.
Here at EverEscents we do not use this ingredient in ANY of our products and especially not in our Hairspray. Our Grapefruit and Lemon Grass Hairspray is not only kind to you but is also kind to the environment by not having an aerosol and instead having an environmentally friendly trigger spray.  This beautiful product contains a natural UV protector and hold factor which means no petro-chemicals, plastics or polymers. This gentle formula also means no more eye and scalp irritations.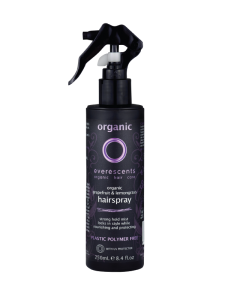 To find out more about this product or any others, please head to www.everescents.com.au
Sourced From:
http://btruenaturals.com/index.php?app=cms&ns=display&ref=pvp
EverEscents, hairspray, liquid plastic, natural, organic, Organic Hair Care, Organic Haircare, organic hairspray, PVP Copolymer, pvp/va copolymer