The amazing benefits of Horsetail!
In this week's blog we are sharing some fantastic information about Horsetail and its amazing features and benefits! Horsetail is one of the many beneficial Organic Herbal Extracts that we use in our products here at EverEscents Organic Hair Care.
What is Horsetail?
Horsetail is a member of the Equisetaceae family; the sole survivor of a line of plants going back three hundred million years. It is a descendant of ancient plants that grew as tall as trees during the carboniferous period of prehistoric times and members of this family gave rise to many of our coal deposits.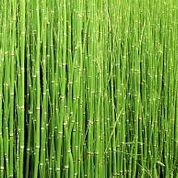 Since being recommended by the Roman physician Galen, several cultures have employed horsetail as a folk remedy for kidney and bladder troubles, arthritis, bleeding ulcers, and tuberculosis. The Chinese use it to cool fevers and as a remedy for eye inflammations such as conjunctivitis and corneal disorders, dysentery, flu, swellings and haemorrhoids. Horsetail Herb is considered to have the best possible healing effect for most skin conditions. It has healing and calming properties and strengthens the hair whilst giving a healthier glow.
What are the Benefits of Horsetail?
Horsetail is known for its anti-inflammatory, antibacterial, antimicrobial, antioxidant, coagulant, demulcent, diuretic and astringent activity.
Reportedly, it has been used in the treatment of a number of health conditions which include;
brittle bones, hair, teeth and nails, gingivitis, tonsillitis, rheumatic disorders, edema, osteoarthritis, diabetes, acne, wounds, itchiness, rashes, burns, frostbite, chilblains, athlete's foot, cracked and tired feet, ulcers, gastrointestinal conditions, cardiovascular diseases, respiratory tract infections, bronchitis, fever, bladder problems, urinary tract infection, bed wetting in children.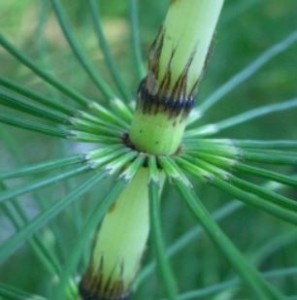 Horsetail is also known to strengthen the body's immune system.
Horsetail Herb is a natural source of silica. Because of its content of silica, this plant is recommended when it is necessary for the body to repair bony tissues that are in not well condition, as a result of some traumatism or because of their own corporal decalcification. Silica helps to fix calcium, so that the body can store more quantity of this mineral and it is able to form stronger bones or tendons. Research shows that silica in Horsetail may help promote hair growth and strength and may also be beneficial for hair loss, dandruff, and split ends.
Therefore, drinking Horsetail tea and massaging its herbal tincture and washing the hair with Horsetail extract mixed shampoo may be effective to achieve dandruff free nourished, strong, lustrous, and rejuvenated hair. It can also improve the circulation in the scalp and strengthen hair follicles; this is the reason that we use Horsetail extract in all of our EverEscents shampoos!
It's so lovely to know more about what ingredients we are putting onto our skin and bodies and how we can benefit from them, to view the EverEscents Organic Hair Care range CLICK HERE.