Moroccan and Argan Oil benefits
Wikipedia starts to unravel the myth that is Argan oil; it is a plant oil produced from the kernels of the Argan tree (Argania spinosa L.), endemic to Morocco, that is valued for its nutritive, cosmetic and numerous medicinal properties. It is also known in cosmetic use as moroccan oil.  The term 'Moroccan oil' usually means Argan oil and that is a lovely 100% natural oil that is produced mainly in Morocco.
What makes Argan Oil special is that it is extremely rare and is found in a small region of Morocco. Native Moroccans have used Argan oil for hundreds of years. Moroccans call Argan oil "Liquid Gold" and believe that it can help with many skin conditions.  As well as its cosmetic benefits, Argan Oil plays a major role as part of a healthy diet. Argan oil has two times more Vitamin E in than Olive oil; therefore Argan Oil can be included in dishes in the same way olive oil is used. Argan Oil is used to help the skin, hair and internal health of humans.
It is hard to believe that on top of the good news story of Argan Oil, there is an even better one, as told by Care2,  the finest Argan oil is made inside the women's cooperatives in south west Morocco. The women harvest the nuts from the trees (not from the ground) and use a combination of traditional hand and machine cold-press extraction methods to produce extra-virgin Argan Oil according to strict guidelines by the Moroccan Department of Agriculture. Additionally, the cooperatives provide the women with income, education and invest in a reforestation program to protect the dwindling reserve of Argan trees.
It is Berber women who are solely responsible for harvesting the nuts and producing the oil, and they are doing so in fair trade working cooperatives. Outside groups, like the government of Monaco, are also financially backing a system whereby women can work half days (so they can still tend to their families) in exchange for fair wages and good working conditions. This has allowed an income for women and families where before there was little.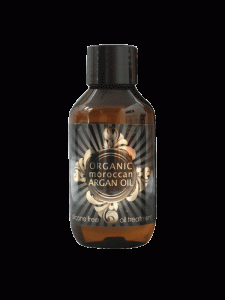 If that isn't a reason to buy EverEscents Organic Moroccan Argan Oil, I don't know what is!
Source:  http://www.care2.com/greenliving/is-argan-oil-miraculous.html#ixzz2RNHld4Pb & http://www.care2.com/greenliving/is-argan-oil-miraculous.html?page=2
Argan Oil benefits, Moroccan Oil Benefits, Organic Hair Care, Organic Haircare