Awesome new H2D hair dryer out now!
Are you one that spends ages in front of the mirror drying your hair only to have it go frizzy as soon as you step outside?
Enter H2D iR Professional Hair Dryer.
What does IR stand for? Infra-Red.
What does IR do? In-built infrared heaters allow heat to penetrate deep into the cortex of the hair shaft. This relaxes each strand of hair and dries from within to reduce drying time even further.
Have you ever had a hair tool with an Ionic generator? This new H2D iR hair dryer contains an ionic generator which sounds quite fancy…and it is! The hairdryer actually creates millions of negative ion particles. These particles seal cuticles, infuse moisture, eliminate frizz and provide that silky 'just conditioned' feel.
So now you're wondering about the speed and heat settings? The H2D iR provides gentle air flow to your hair or hit the max setting for salon-strength power to rapidly dry your hair until it's silky soft and ready for styling.
The result? Hair is dried extra fast leaving it light, smooth and silky-soft with a diamond shine. H2D iR is the hairdryer of choice for professionals and home users who want hair which looks and feels simply beautiful in less drying time. Treat your hair with one of the few hairdryers in the world to have both true ionic and infrared technology.
And what about the secret weapon…the "cold shot"! This is a powerful professional stylist's trick. Style your hair with hot air and then hit it with the cold shot blast to 'lock' the shape and volume in place.
If you would like to know more, please phone our toll free number on 1300 856 744. This awesome new dryer is now available, you can find it here!
Till next time, have a great hair day!
Tiarna (EverEscents Stylist)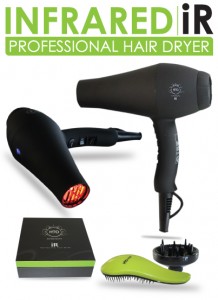 EverEscents, H2D, H2D IR Hairdryer, hairdryer, natural, organic, Organic Hair Care, Organic Haircare