New Organic styling cream…awesome for curls!
Guess What?! The Universal Styling Cream is FINALLY here and we couldn't be happier.
Excited is an understatement. This product holds a special place in my heart as it has been a labour of love for the last 8 months. Prototypes back and forward, salons trialling it and collaborating feedback to create this great new product. The result is amazing and we hope you love it just as much as we do!
I'm sure you're probably wondering what is actually is. The Universal Styling Cream is a multi-purpose styling cream that can be used to accentuate curls and improve hair lustre while also great for smooth blow-drying. It's very lightweight so also great for anyone with fine hair!
Amongst an abundance of awesome ingredients, the Universal Styling Cream boasts two new elements that we are all so excited to incorporate into the product. The first is Hibiscus Flower Extract and the second is Kerarice.
The Hibiscus flower gives suppleness to hair fibres, contributes to fortifying hair, reduces greasy hair appearance, increases brightness and brings a silky touch to the hair. The key benefit of the Hibiscus flower is improvement in lustre which is obtained by repairing damaged polysaccharides on the keratin chain.
The Kerarice is naturally derived from the rice plant and is an active ingredient bursting with amino acids & peptides, specifically designed to protect hair fibres from the oxidative damage generated by solar radiation UVA and UVB.
If you would love to experience this new product, please jump on our website, www.everescents.com.au to check out where your nearest salon stockist is.  It is also featured in our brand new great value Mother's Day Packs so check them out while you are there!  If you don't have a salon nearby you can purchase online.
I would love to hear your feedback so drop me a line about this awesome new product; tiarna@everescents.com.au.
Till next time….Tiarna (EverEscents stylist)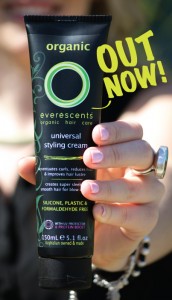 curly hair, eco friendly, EverEscents, natural, organic, Organic Hair Care, Organic Hair Products, Organic Hair Products for Curls, Organic Haircare, SULFATE FREE, SULFATE FREE SHAMPOO, Universal Styling Cream