The Benefits Of Using Organic Shampoo
If you've ever tried reading the label on your shampoo bottle, you might feel like you're reading a foreign language! Sometimes the list of ingredients is so long that you don't even bother to read it.
You simply assume that if it's sold in a shop it is verified and safe. In reality many ingredients in your shampoo are linked to cancer, asthma, neurological problems, skin irritation and other health problems, and you don't even know it.
Did you know that more than half of what you put on your skin (the largest organ) absorbs into your body – synthetic foaming agents, parabens and other chemicals end up running through your veins. Some of these chemicals are harmful and are allowed in shampoos because there's only small amount in each bottle.
An alternative is choosing a natural or Organic brand of hair care such as EverEscents Organic Hair Care. Our Organic Shampoo is a much gentler and healthier way of washing your hair. Even if you don't have any major hair or scalp issues, the EverEscents Organic Hair Care Organic shampoos and conditioners can help eliminate harsh chemicals from your daily life. Reading the labels is very important when switching to an organic shampoo and always be sure to look for natural and organic ingredients.
Common Harmful Ingredients to look out for in Shampoo:-
1,4 Dioxane
Ammonium Lauryl / Laureth Sulphate
Behentrimonium Chloride
Benzyl Alcohol
Butylated Hudroxyanisole  (BHA)
Cetrimonium chloride
Cetalkonium chloride
Cocamide DEA
Cocomide MEA
DMDM Hydantoin
Phenoxyethanol
Propylene Glycol
PVP/VA Copolymer
Quaternium-7, 15, 31, 60, etc
Silicones (Cyclomethicone, Cyclopentasiloxane, Dimethicone)
Sodium Cocoyl Sarcosinate
Sodium Lauryl / Laureth Sulphate
Stearalkonium chloride
TEA (Triethanolamine)
Toluene
 FD&C Colour Pigments
Fragrance / Parfum (artificial)
Linalool
Methylisothiazolinone and Methylchloroisothiazolinone (M.I.T's)
Mineral Oil
Nitrosamines
PPD (Paraphenylendiamine)
Parabens (butyl, ethyl, methyl, propyl)
PEG's (Polyethylene Glycol)
How is Organic Shampoo Different, and How Does it Work?
Organic shampoos simply don't contain the nasty ingredients that the mainstream shampoos do. They contain natural ingredients like proteins, essential oils, vitamins, fruit extracts and so much other goodness.
These ingredients in themselves are amazing nutrients for your hair.  Organic shampoos also don't have harsh detergents such as Sodium Lauryl Sulfate (SLS) which means that they don't lather up as well.
Don't worry though- this doesn't mean that they don't clean your hair just as well, like every shampoo, make sure you are giving your hair two washes before moving onto your conditioner. This will help to remove any stubborn product or dirt / grease build-up from the hair.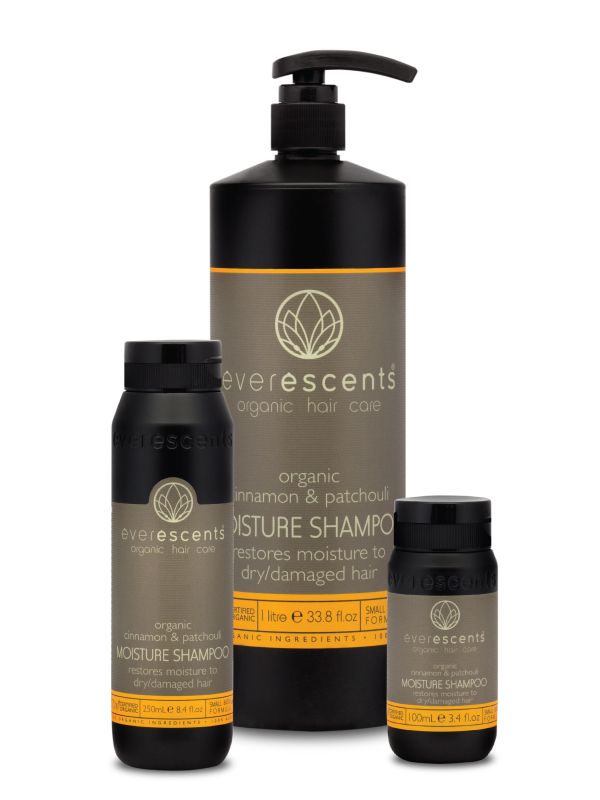 Why do the EverEscents Organic Hair Care shampoos contain certified Organic essential oils?
EverEscents is extremely proud to use Certified Organic essential oils in every product as there are many therapeutic benefits and they are far superior to synthetic oils.
EverEscents uses only the finest and most pure oils available, which are much more expensive than the synthetic oils because a large amount of plant material is required to produce even a small amount of pure essential oil.
  Reasons why you should choose EverEscents Organic Hair Care shampoos: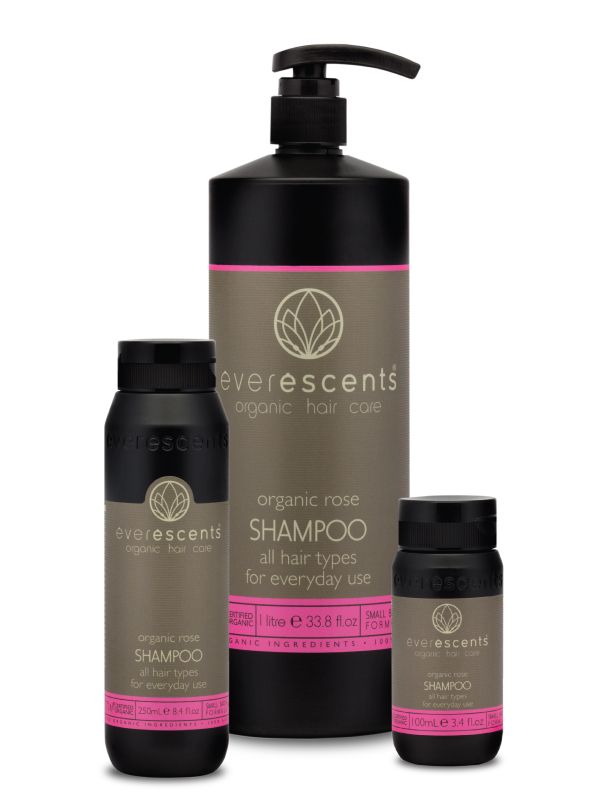 The EverEscents Organic Hair Care shampoos products contain a minimum of 75% and up to 96% Certified Organic ingredients and most products contain 100% naturally derived ingredients
Australian made and owned
Not tested on animals & accredited with Choose Cruelty Free
Vegan friendly
Refillable and recyclable packaging
Carbon Friendly