SUSTAINABLE SALONS – THE WAY OF THE FUTURE
In the world and business of salon owner Bianca Lauaki of Organic Hair Sydney, the conscious choice is paramount after being introduced to a sustainable approach to the hair care industry early on in her career.
After some time travelling, working in mainstream salons and doing editorial work, Bianca returned to her roots and opened Organic Hair Sydney. Her business celebrated 5 years in late 2021 and her love for organic hairdressing has grown in leaps and bounds since.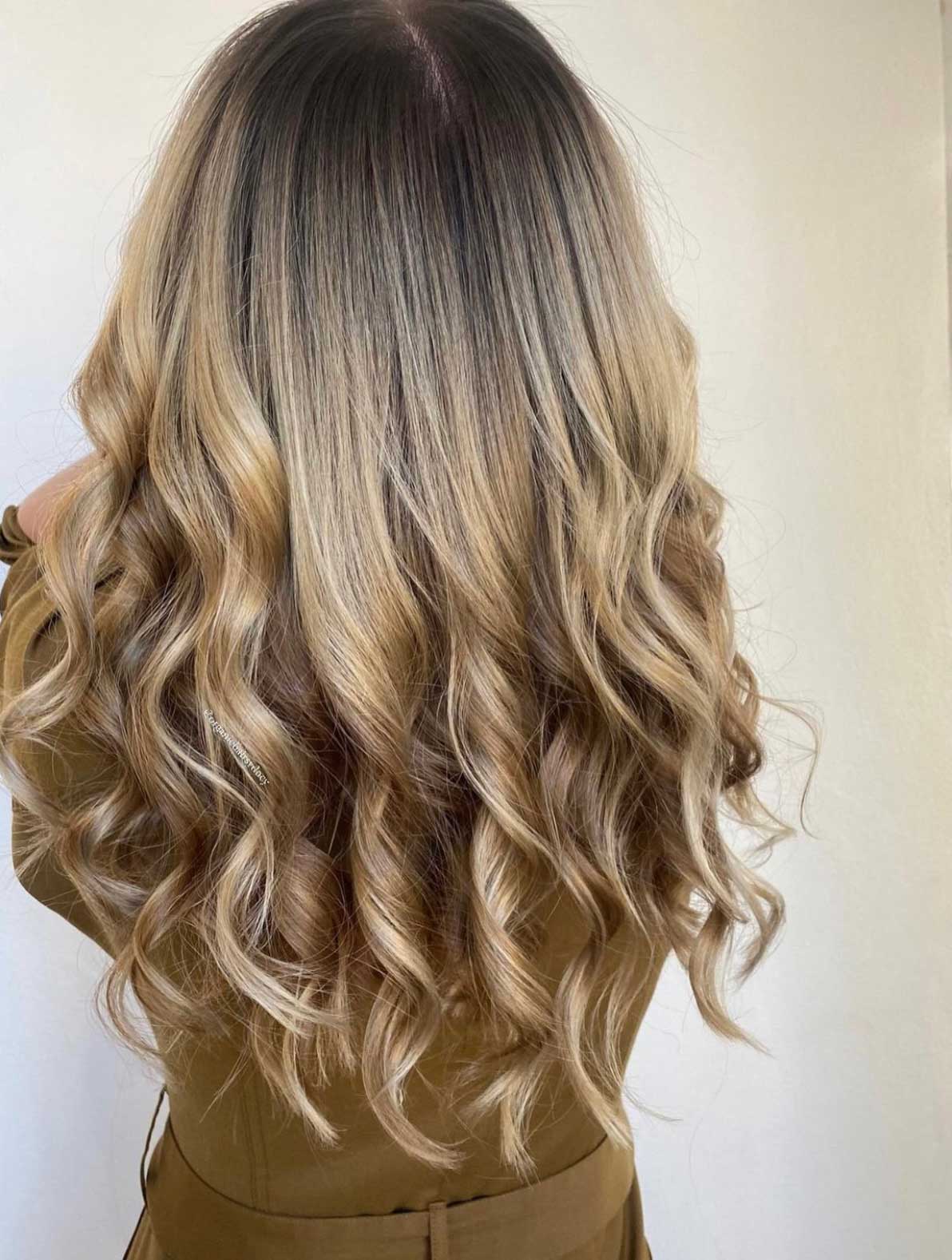 Hair by Organic Hair Sydney – source Instagram
Bianca's welcoming and relaxing salon space in Concord Sydney offers a separate "quiet" colour room where no blow-dryers are used and noise is kept to a minimum, including a quiet working space, shampoo lounge and cutting stations.
Separated areas throughout the spacious salon offer the opportunity for clients to unwind and relax without noise and toxic fumes, whilst EverEscents Essential Oils diffuse in the air.
Organic choices and being conscious of your skin and body
Hairdressing aside, Bianca has always made Organic choices, conscious of what she puts on her skin and into her body. When Bianca first started working with products that were ammonia free and free of harsh chemicals – the allergies she'd dealt with for years almost completely disappeared, fuelling her passion for low tox, organic hair care further.
To mark International Earth Day in April, Bianca shared her passions for sustainable practices she conducts in salon to reduce her environmental footprint. Practices such as reducing what goes to landfill by recycling foil and soft plastics, not washing excess colour down the basin and offering an EverEscents and Clever Curl Refill Bar.
Fully stocked EverEscents and Clever Curl refill station at Organic Hair Sydney
Bianca said;
"If a car size amount of foil is amounting every year within every salon in Australia, it really scares me for what my children and their children have to look forward to. In my salon alone, everything that can be recycled is recycled. No colour wastage is ever washed down the drain and we try to reduce that footprint as much as possible because consciously, I don't want to be adding to the issue."
Bianca shares: "If you're a salon offering these options you are showing you care by offering a refill option for their home haircare needs, that creates loyalty alongside educating the next generation of hairdressers that will open salons that will be sustainable as well."
Be aware of brands that greenwash you with buzzwords
Bianca's approach to education through conversation and consultation is informative, allowing her values to enhance her client's experience. Being aware of brands that will greenwash you with buzzwords is not the same as a highly ethical company that stands by its values and is fully transparent.
"Not many hair care companies offer the 5L Refill bottles for their whole range and we sure got lucky when these Australian Made, Cruelty Free EverEscents and Clever Curl products landed in our hot little hands. If you are an EverEscents Stockist and you would like to offer a Refill Station, start with your Top 5 Best Sellers, plus you will save money in the long run." Said Bianca.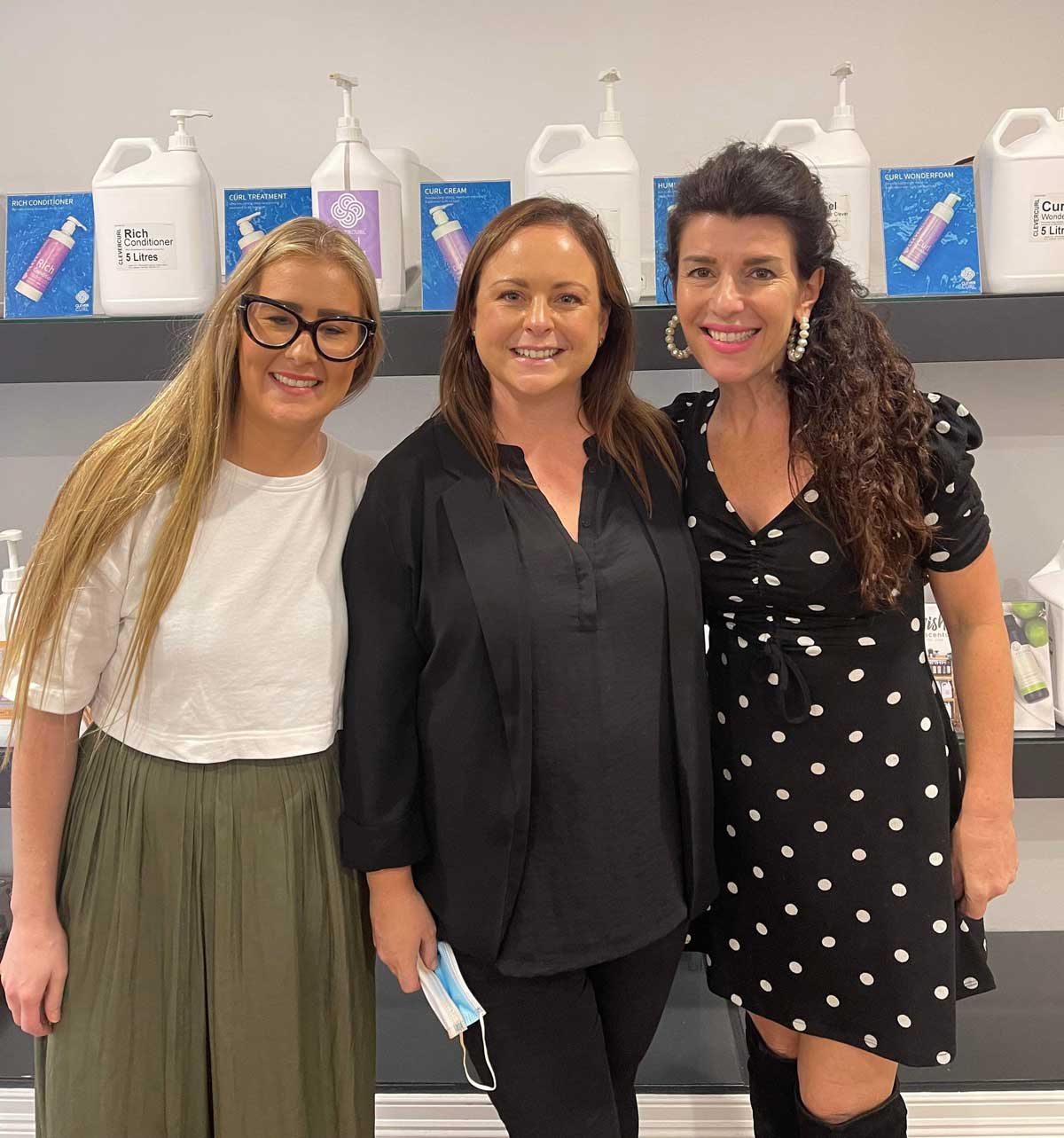 Bianca (Left) pictured with  Alexis (Middle) of Ethical Brand CO and fellow hairdresser and salon owner Rosanna (Right) of Organic Hair Co
'What I love about EverEscents is everything is labelled so clearly, so it makes my job a lot easier."
When it comes to Bianca's EverEscents Product of choice, she's a big fan of Organic Ylang Ylang & Lime Universal Styling Cream.
"I love this product for my curly girls to add hydration and as a fantastic blow dry aid. It's also brilliant as a detangler, something that I learnt through my children."
Organic hairdressing is a niche market and there is no limit to what you can do now using organic products. For Bianca, education is key in building awareness:
"Just because you're using a low tox product doesn't mean you're not going to get the results that you do from your mainstream lines." She said.
Three tips for a more sustainable salon approach
Bianca offers three tips to any salon owner interested in making the shift to a more sustainable approach to the industry:
Shift one thing at a time
Choose brands that meet your ethics
Simply jump in and get started
Once you start, everything else becomes easier, just like anything in life.
This way of approaching the industry is continually building traction and with incredible women like Bianca educating from such an informative space, the movement will only build momentum allowing more salons to offer this way of doing hair. Did I mention they are Pregnancy and Breastfeeding safe?
Be sure to connect with Bianca and the Organic Hair Sydney Hair team for all your sustainable haircare needs.
Sustainability is the way of the future. It just takes one conscious choice at a time.
Hair by Organic Hair Sydney – source Instagram
Instagram: @organichairsydney
Facebook: Organic Hair Sydney
Email: organichairstudiosydney@gmail.com
Phone: (02) 9713 4143
Website: www.organichairsydney.com.au
Each month I will be hosting an incredible series with EverEscents via Instagram, where you can get an insight into the hearts of EverEscents Stockists throughout Australia. In April I was joined by Bianca from Organic Hair Sydney. We had an informative and beautiful conversation which you can rewatch via Instagram HERE or if you enjoy learning via written word, grab yourself a cuppa and soak in our beautiful conversation without the small talk.
Jessica Carey