Natural Hair Tips for Summer
As summer is fast approaching, our hair needs shielding from sun damage so below are a few do's and don'ts on how to look after your hair.   Minerals and oxidizers are the biggest contributors to summer hair and scalp problems.   Repeated chlorine and metal exposure from the pool will cause our hair to turn green.
If there's anything worse than using products with harsh chemicals, it's using them in partnership with our hot summer sun. The summer heat opens the pores of the skin and scalp, which then allows for further absorption of ingredients in hair products – so make sure your hair and body are absorbing only the best organic products.   As with all EverEscents Organic Hair Care productsthe ingredients are of the highest quality and do NOT contain any harsh chemicals.
Do's
Drink plenty of water. The more hydrated you are, the more hydrated your hair and body will be.
It's a good idea to wash your hair straight after exposure to the sun, surf and chlorine.
Add moisture to your hair prior to jumping in the pool – just think of your hair like a sponge, ready to soak up any water.  A dry sponge will absorb more of the chemicals if put into the chlorinated water than a wet sponge already soaking wet would.  So, wet the hair and/or put in a leave-in conditioner prior to going to the pool.
Cut loose split ends frequently to prevent split ends from travelling up the hair shaft and damaging the hair.  For healthy hair, it is recommended to have a trim every four to six weeks.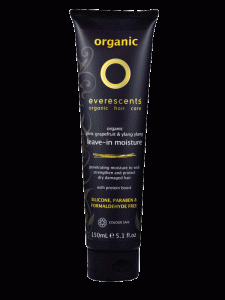 Everescents Leave-In Moisture –  provides instant penetrating moisture to seal, strengthen and protect the mid lengths and ends of your hair with the added benefits of Certified Organic herbal extracts and essential oils sourced from the highest quality Australian farmers.
Dont's
Don't wash your hair with hot water.  Always use warm water.
During the warm-weather months, it's best to limit your use of the blow dryer and straightener. When the air is moist, it can take longer to style hair which can result in further drying and damage. If you absolutely must use styling tools, liberally apply a heat   protectant beforehand.  Check out our Finishing Serum below.
Don't tie your hair up too tightly or especially when it is wet as it could cause it to break.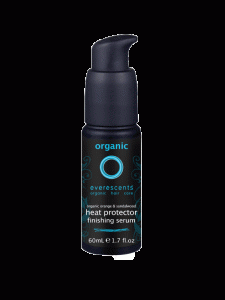 Everescents Finishing Serum The EverEscents Organic Finishing Serum provides instant sealant and protection for the surface of the hair. It reduces frizzies and protects against sun, wind & heat styling.
Check out our beautiful range at EverEscents.com.au.  All of our products are organic and chemical free.
artificial fragrances, Artificial Preservatives, Artificial Preservatives - Phenoxyethanol, EverEscents, natural, natural hair, organic, organic food, Organic Hair Care, Organic Haircare, SULFATE FREE, SULFATE FREE SHAMPOO