THE AMAZING BENEFITS OF ORGANIC YLANG-YLANG
Cananga Odorata, typically known as the Cananga Tree is a tropical tree native to India, parts of Indochina, Malaysia, the Philippines, Indonesia, and also right here in EverEscents' home state of Queensland, Australia.
The flowers produced by the Cananga Tree are called ylang-ylang and the essential oil extracted from the ylang-ylang flower is used widely in aromatherapy, personal care products and other applications.
The name ylang-ylang is derived from the Tagalog term for the tree, ilang-ilang, meaning "wilderness", alluding to the tree's natural habitat.
Ylang-ylang has been used for centuries across tropical areas of Asia, and the flowers are still traditionally used in Indonesia to decorate the bed of newly married couples on their wedding night due to their uplifting and aphrodisiac qualities.
The pleasant floral scent of ylang-ylang may be described as both delicate and powerful, making it a popular ingredient for use in perfumes for both men and women.
HEALTH BENEFITS OF ORGANIC YLANG-YLANG
Ylang-ylang is renowned for its mood lifting, sedative, antidepressant, cosmetic and aphrodisiac properties. It is believed to be beneficial for the immune system, cardiovascular system and endocrine system, relaxing the body while freeing the mind of negative emotions. Some of ylang-ylang's amazing health benefits include:
Mood enhancer
When inhaled, Ylang-ylang is known to have a positive effect on the mood due to its ability to act on the olfactory system in the brain.
Ylang-ylang essential oil can help promote feelings of wellbeing while releasing negative emotions.
Lowers blood pressure
Known to improve circulation and reduce blood pressure, ylang-ylang essential oil is effective in supporting the cardiovascular system. The sedative qualities of ylang-ylang can help regulate the heart rate, balance blood pressure levels, enhance circulation and calm the nervous system.
Stress reliever
Ylang-ylang lowers the body's stress response by reducing the heart rate and blood pressure.
By doing this, it can help to soothe feelings of stress, anxiety, muscle tension and insomnia.
Natural anti-septic
Used medicinally, Ylang-ylang oil works to effectively facilitate the healing of wounds by preventing cuts, scrapes, and burns from becoming infected by harmful bacteria.
THE BENEFITS OF YLANG-YLANG FOR HAIR AND SKIN
Due to its antiseptic, antibacterial, anti-inflammatory and anti-seborrheic properties, ylang-ylang essential oil is effective in improving the health and appearance of the hair and skin by clearing blemishes and helping to treat various skin and scalp conditions.
Used cosmetically or topically in general, ylang-ylang essential oil is best known for balancing and regulating oil production in the skin and hair to prevent excessive dryness and/or oiliness. It soothes inflammation and irritation on the body and the scalp while strengthening skin and hair.
It addresses acne as well as hair loss by enhancing circulation, encouraging the growth of new skin and hair, contributing and maintaining hydration, conditioning, and preventing infections with its anti-microbial properties. Put shortly, it's a super food for your hair and skin!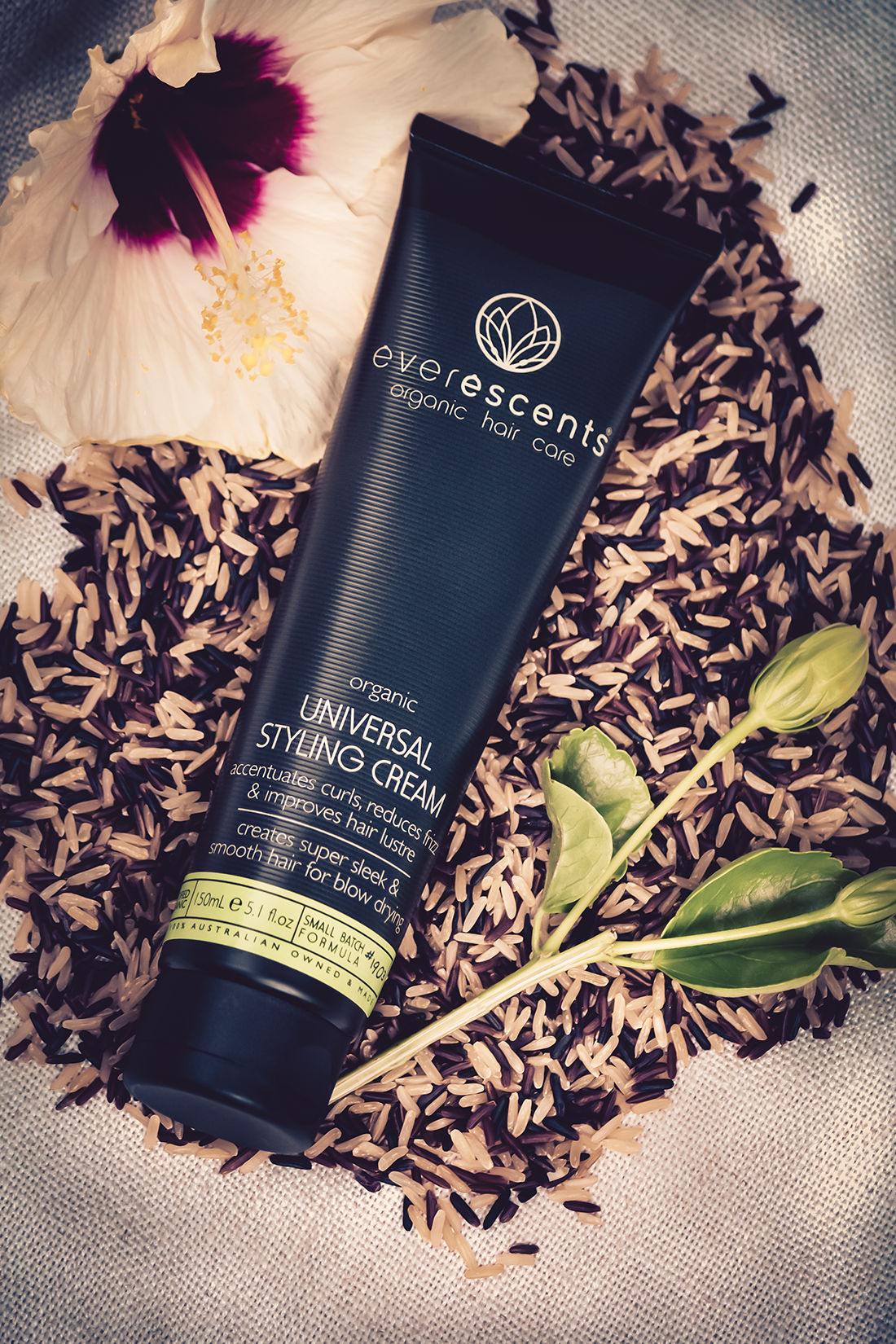 EVERESCENTS ORGANIC YLANG-YLANG & LIME UNIVERSAL STYLING CREAM
The EverEscents Organic Hair Care range of Organic shampoo, conditioner, treatments and styling products contain the highest quality pure Australian Certified Organic ingredients and essential oils and does not contain and harmful or toxic ingredients.
EverEscents is proud to include certified Organic ylang-ylang essential oil in an array of our beautiful hair care products, including the popular and versatile Universal Styling Cream.
The EverEscents Organic Ylang-Ylang and Lime Universal Styling Cream is perfect for blow drying, accentuating natural curls , improving hair lustre and reducing frizz.
With a new and improved formula, Universal Styling Cream brings benefits to your hair and body with Certified Organic lemongrass, lime and ylang-ylang which are all proven to assist with the condition of the hair and scalp.
Universal Styling Cream is further fortified by Hibiscus flower, which gives suppleness to the hair fibres, contributes to fortifying the hair, reduces greasy hair appearance, increases brightness and brings a silky touch to the hair.
Universal Styling Cream also contains Kerarice naturally derived from the rice plant, an active ingredient bursting with amino acids and peptides, specifically designed to protect hair fibres from the oxidative damage generated by solar radiation UVA and UVB.