Organic Geranium Pure Essential Oil
Organic Geranium Pure Essential Oil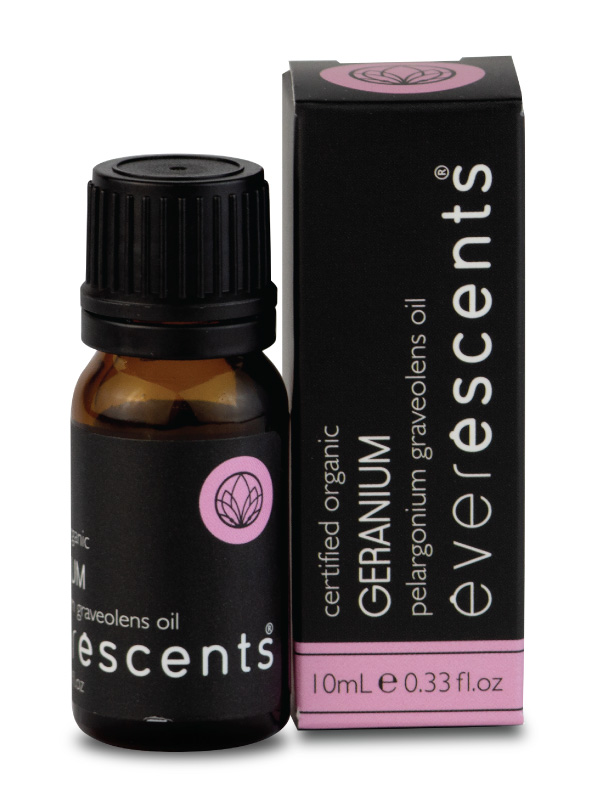 Organic Geranium Pure Essential Oil
PELARGONIUM GRAVEOLENS OIL

Scent
Sweet but soft, floral, rosy with a herbaceous undertone. 
Benefits
Geranium is well known for its balancing effect and is therefore great for stabilising mood and nervous tension as well as neutralising the effects of 'too much oil' or 'too much dryness' in the hair and skin. Its anti-inflammatory properties may assist in soothing symptoms of menstruation and menopause. When used in massage, Geranium Oil soothes and may improve the appearance of the skin. 
Emotional Benefits
The Oil of Love & Trust
Positive Properties:  Emotional healing, trusting, forgiving, gentle, loving, tolerant, openness
Uses
Diffusion: add a few drops to your diffuser for a calm and uplifting scent.
Topical: add one drop to your moisturiser/face cream for smoothing. Can be diluted with a carrier oil (almond, coconut, jojoba) before application.
Other: apply a few drops to shampoo or conditioner for enhanced scalp health.
Add a few drops to EverEscents fragrance-free shampoo, conditioner or treatment.
Blends well with: Patchouli, Lemon, Peppermint and Rosemary Essential Oils

Origins
Geraniums –– botanical name: Pelargonium graveolens –– originated in South Africa but are now cultivated all over the world. The Ancient Egyptians were first to distil the sweet-scented Oil from the plant in a quest for radiant skin and stress-free minds.
Caution
Keep out of reach of children. Store below 30°C. Not for internal use.
"This statement has not been reviewed or approved by The Therapeutic Goods Administration (TGA) or any other regulatory body. This product is not intended to diagnose, treat, cure or prevent disease or illness".