Organic Cinnamon Leaf Pure Essential Oil
Organic Cinnamon Leaf Pure Essential Oil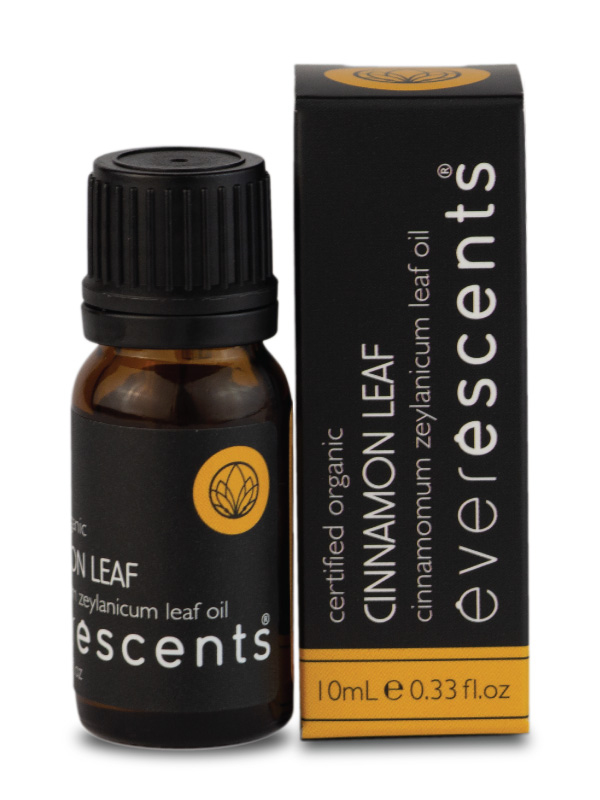 Organic Cinnamon Leaf
Pure Essential Oil
CINNAMOMUM ZEYLANICUM LEAF OIL

Cinnamon Leaf Essential Oil presents a spicy and festive aroma that is bolstered by valuable skin, hair and wellness benefits.
Benefits
Cinnamon Leaf Essential Oil provides a woody, musky aroma and is used in aromatherapy to boost feelings of support, clarity and renewed energy. The Oil can be used in massage to soothe sore muscles and joints and may also help to relieve tension. It is reputed to soothe and nourish the skin and may alleviate inflammation. Cinnamon shampoo varieties may also improve dry scalp or dandruff, as well as enhancing hair growth.
Emotional Benefits
The Oil of Harmony
Positive Properties: Self-acceptance, harmony, intimacy
Uses
Diffusion: add a few drops to your diffuser for a musky and woody scent.
Topical: dilute with a carrier oil (almond, coconut, jojoba) before applying to skin.
Other: Mix 5–6 drops with 5 tbsp of carrier oil and rub into scalp to address dandruff and stimulate hair growth.
Add a few drops to EverEscents fragrance-free shampoo, conditioner or treatment.
Blends well with: Pink Grapefruit, Ylang Ylang and Patchouli Essential Oils
Origins
Cinnamon Essential Oil is extracted from the leaves of the 'True Cinnamon' tree –– botanical names: Cinnamomum zeylanicum or Cinnamomum vervun –– and is distilled from either the bark or the leaves. Cinnamon is one of the world's oldest spices. In Middle-Ages Europe, it was a symbol of affluence and status, as only the upper class could afford stashes.
Caution
KEEP OUT OF REACH OF CHILDREN. NOT TO BE TAKEN. Store below 30°C. Not recommended for use during pregnancy.
 "This statement has not been reviewed or approved by The Therapeutic Goods Administration (TGA) or any other regulatory body. This product is not intended to diagnose, treat, cure or prevent disease or illness".